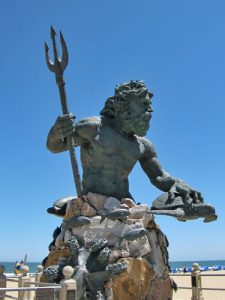 Tidewater Virginia beaches range from large oceanfront tracts along the Atlantic Coast to sheltered beaches of the Chesapeake Bay and its lower tributaries.
Tidewater beaches are popular for day trips, weddings, family reunions, cookouts, picnics, and other outings.
During the summer season, local beaches are perfect for swimming, sun bathing, walking, running, flying kites, painting, and other activities.
In the off season, beaches are popular for hiking, collecting sea shells, fishing, birdwatching, photography, and other recreation.
One of Hampton Road's best known beaches is located along the three mile oceanfront boardwalk in Virginia Beach. Known for its white sand, festive atmosphere, and water suitable for swimming from June thru October, this famous landmark is an excellent spot for swimming, sun bathing, walking, running, biking, roller-blading, site seeing, and other activities.
Related Information