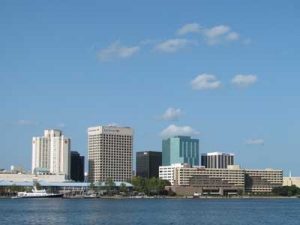 Norfolk is one of the oldest cities in Virginia and one of four cities that occupy the port of Hampton Roads.
Norfolk is bordered by the Elizabeth River to the west and the Chesapeake Bay to the North. Across the Elizabeth River, lies Portsmouth.
The Elizabeth River Ferry and private water taxis transport passengers between Norfolk's Waterside and Olde Towne Portsmouth.
Norfolk is one of the most important East Coast cities for the financial sector. Norfolk is also home to important military assets. Located along the Elizabeth River, the Norfolk Naval Shipyard is the oldest and largest naval shipyard in the United States.
Norfolk is recognized for its history, culture, and beauty. Norfolk's museums, shopping, and fine dining attract visitors year round. The city hosts a number of annual festivals, including the Norfolk Jazz Festival, Harborfest, and others.
Norfolk is home to over 120 neighborhoods. The city includes five locally designated Historic Districts; Ghent, Downtown, West Freemason, East Freemason, and Hodges House (a single structure). Several Norfolk historic districts and individual sites are recognized on the National Register of Historic Places.
Norfolk's waterfront is one of Hampton Roads' most popular tourist destinations. Popular attractions include Nauticus, the historic battleship USS Wisconsin, Hampton Roads Naval Museum, and Town Point Park.
New in 2018, the SkyStar Wheel at Waterside is expected to be a major attraction. The wheel features climate-controlled gondolas with spectacular 12 story views of the Elizabeth River and Downtown Norfolk.
Norfolk has been recognized for its quality of life. In 2017, Travel & Leisure magazine named Norfolk America's Favorite Place.
Related Information
Tidewater Virginia Cities and Communities