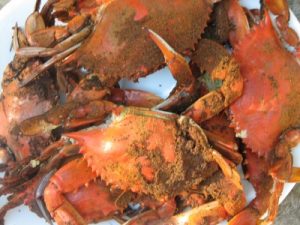 As more and more stories appear concerning the nation's food supply, a grass roots movement among consumers to obtain fresh, healthy food is growing.
Responding to this demand have been farmers, fishermen, and entrepreneurs offering a variety of locally sourced foods that offer an alternative to highly processed meals.
In Tidewater Virginia, consumers are finding more local sourced foods all the time. Local foods are a good choice for healthy meals. In addition, many locally produced foods are sustainable.
Buying locally supports communities and is good for the environment. Switching to locally produced foods also reduces energy use related to transportation, processing, packaging, etc.
Locally sourced foods include fresh fruits, vegetables, baked goods, honey, jellies, preserves, eggs, cheese, meats, and seafood.
Sources of locally produced foods are sometimes a little out of the way but usually well worth the extra effort.
Farmer's markets are one of the best places to look for locally produced foods. Farmer's markets usually have vendors that attend on a long term basis, offering high quality foods. Other likely sources include seafood markets, roadside produce stands, neighborhood stores, and specialty shops.
Some growers and producers offer direct sales to the consumer. These sources can be harder to find, but well worth the effort. Shoppers mainly find direct sellers by word of mouth or thru other sources of information such as local blogs or magazines.
Direct sellers include produce farms, organic farmers, orchards, wineries, livestock ranches, free range chicken farms, fish and shellfish farms, and commercial fishermen.
By taking the time to seek out local, fresh foods, consumers are finding that they can enjoy delicious, high quality foods without chemical additives, expensive packaging or wasteful energy use.
Published: April 22, 2010 | Updated: January 30, 2018
Related Information