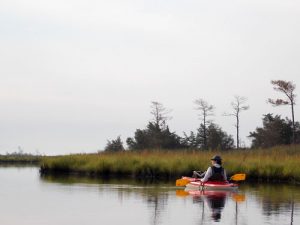 With an abundance of rivers, creeks, lakes, ponds, tidal lagoons, and salt marshes, Tidewater Virginia is an excellent area for enjoying paddlesports. Enthusiasts explore local waterways with canoes, kayaks, paddleboards, and other craft.
Paddlesports Areas
First Landing State Park (Virginia Beach)
False Cape State Park
Dismal Swamp National Wildlife Refuge
Back Bay National Wildlife Refuge (Virginia Beach)
Lake Smith and Lake Lawson Natural Area (Virginia Beach)
North Landing River Natural Area Preserve (Virginia Beach)
Northwest River Park (Chesapeake)
York River State Park (Williamsburg)
Riverwalk Landing (Yorktown)
Lynnhaven River
Elizabeth River
Nansemond River
James River
Rudee Inlet – Lake Rudee
NOTE: Parks, preserves, natural areas, refuges, kayak launches, and boat ramps may be subject to closures, fees, permit requirements, parking restrictions, or other limitations.
Water Trails
John Smith National Historic Trail
Eastern Branch Elizabeth River Water Trail (EBERT)
Dismal Swamp Canal Trail
Southeast Coast Saltwater Paddling Trail (SECT)
Related Information