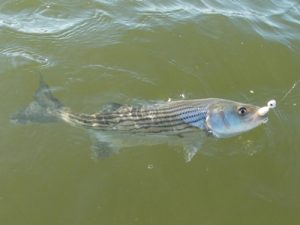 Tidewater Virginia is one of the nation's most popular destinations for saltwater fishing. The region includes a variety of habitats that attract saltwater fish species.
Saltwater fishing spots are generally divided into four categories; tidal rivers, Chesapeake Bay, nearshore ocean, and offshore (deep sea).
On the Western shore, three Tidewater peninsulas are divided by rivers and the Chesapeake. Each peninsula has unique opportunities for fishermen.
On the Eastern Shore, anglers have access to the Chesapeake Bay, Virginia's coastal bays, and the Atlantic Ocean.
In Hampton Roads, fishermen can choose from scores of fishing destinations in nearby rivers, estuaries, and deep sea areas.
A wide range of saltwater fish species are targeted by local fishermen. Popular inshore species include striped bass, flounder, speckled trout, gray trout (weakfish), red drum, black drum, cobia, sheepshead, spot, croakers, kingfish, and others.
Offshore sport fish include tuna, wahoo, mahi mahi, billfish, sharks, and other pelagic species. Also found in the Atlantic are bottom dwelling species including black sea bass, tautog, grouper, tilefish, and others.
Related Information