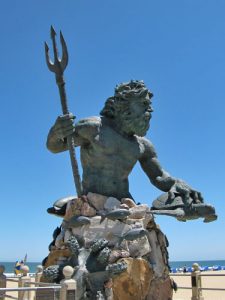 Tidewater Virginia beaches range from large oceanfront tracts along the Atlantic Coast to sheltered beaches of the Chesapeake Bay and its lower tributaries.
Tidewater beaches are popular for day trips, weddings, family reunions, cookouts, picnics, and other outings.
During the summer season, local beaches are perfect for swimming, sun bathing, walking, running, flying kites, painting, and other activities.
In the off season, beaches are popular for hiking, collecting sea shells, fishing, birdwatching, photography, and other recreation.
Northern Neck
Located along the banks of the Potomac River, Colonial Beach is home to a boardwalk, public beach, fishing pier, and more.
At Dameron Marsh Natural Area Preserve a trail leads to shallow lagoons and a beach along Mill Creek. This beach is subject to seasonal closures to protect wildlife.
At Hughlett Point Natural Area Preserve, a hiking trail leads to undeveloped beaches along the Chesapeake Bay and Prentice Creek. This beach is subject to seasonal closures to protect wildlife.
Middle Peninsula
Bethel Beach Natural Area Preserve includes a sandy beach, low dunes, and salt marsh habitats. This secluded beach along the Chesapeake Bay is known for its constantly changing landscape.
Near Mathews, Haven Beach is a quiet setting on Chesapeake Bay with a history of ghost stories and other local legends.
At New Point Comfort, one of the area's most beautiful beaches is accessible only by small boat. Standing nearby is the historic New Point Comfort lighthouse.
Along the lower York River, a small sheltered beach at Gloucester Point Beach Park provides views of the river and Historic Yorktown.
Virginia Peninsula
Jamestown Beach Event Park is a family-friendly park with sheltered beaches, restrooms, paddlecraft rentals, fishing, and other ammenities. Jamestown Beach is located on the James River on Jamestown Road.
Located on the Virginia Peninsula, the public beach at Yorktown is a popular destination for leisure activities. Yorktown beach is located along the city's waterfront pedestrian riverwalk.
Hampton Roads
Near Hampton, Buckroe Beach includes public beach access, fishing pier, watercraft rentals, and other attractions.
Also in Hampton Outlook Beach is popular for swimming, sunning, and relaxing. The City of Hampton provides lifeguards at Outlook Beach on a seasonal basis.
At the southern end of Hampton, Outlook Beach is accessible via Fort Monroe. The four mile beach offers excellent views of the lower Chesapeake Bay.
Along the James River in Newport News, Huntington Park, and Anderson Park feature public beaches.
Beach access is available at numerous locations in Norfolk. The City of Norfolk maintains three major waterfront parks: Community Beach Park (700 E. Ocean View Ave.), Ocean View Beach Park (100 W. Ocean View Ave.), and Sarah Constant Beach Park (300 W. Ocean View Ave).
One of Hampton Road's best known beaches is located along the three mile oceanfront boardwalk in Virginia Beach. Known for its white sand and water suitable for swimming from June thru October, the beach is an excellent spot for swimming, sun bathing, walking, running, biking, roller-blading, site seeing, and other activities.
Eastern Shore
Some of the region's most secluded beaches are found on the Eastern Shore. Many of the barrier islands beaches are accessible only by boat.
On Assateague Island, public beach access is available at Assateague National Seashore. The beaches at Assateague Island have been recognized for their appearance and water quality.
Located on Saxis Island, a public beach is a popular destination for sea glass collecting and other pastimes.
Near Eastville, a quiet beach is located within Savage Neck Dunes Natural Area Preserve. The area includes trails for hiking and wildlife watching.
The beachfront at Cape Charles includes sandy beaches, piers, and views of the lower Chesapeake Bay.
Near the southern tip of the Delmarva Peninsula, a sandy, sheltered bayside beach is located Kiptopeake State Park.
Related Information