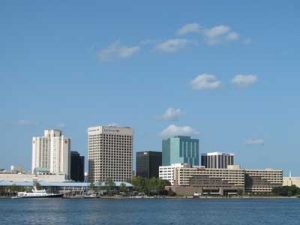 Tidewater Virginia is home to numerous cities, towns, and communities. The region includes communities along the Chesapeake Bay and its tributaries, the seven cities of Hampton Roads, and other areas.
Northern Neck
The Northern Neck is the northernmost of three western shore peninsulas. Bounded by the Potomac River on the north and the Rappahannock River on the south, the Northern Neck is one of Tidewater Virginia's quietest areas.
Middle Peninsula
The Middle Peninsula includes the communities of Gloucester, Tappahannock, Deltaville, and Urbanna.
Lower (Virginia) Peninsula
Several communities are located on the Lower Peninsula, including Williamsburg, Jamestown, Yorktown, Poquoson, Newport News, and Hampton.
Hampton Roads
The Hampton Roads region of Virginia includes Norfolk, Portsmouth, Newport News, Chesapeake, Hampton, Virginia Beach, and Suffolk.
Eastern Shore
The Eastern Shore of Virginia is home to numerous small, historic towns and villages. Among the best known are Chincoteague Island, Onancock, Wachapreague, Nassawadox, and Cape Charles.
Related Information