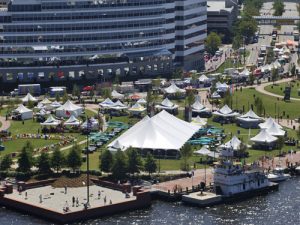 Tidewater Virginia has an exciting schedule of annual festivals, shows, exhibitions, and other events. The following is a list of popular activities.
Ocean View Art Show
The Ocean View Art Show is sponsored by the Chesapeake Bay Art Association. The event is the largest and oldest artist run show in Hampton Roads, Virginia. Held in October, the show has entertainment for the whole family, food vendors, and more.
Stockley Gardens Arts Festival
The Stockley Gardens Arts Festival is held in Norfolk's historic Ghent neighborhood twice a year, on the third full weekend in May and October. The festival includes food, music, art exhibits, kids activities, an artists reception, and more. Professional artists compete for prizes and display jewelry, pottery, paintings, and other works of art for sale.
Colonial Place – Riverview Front Porch Art Walk
The annual Colonial Place – Riverview (CPRV) Front Porch Art Walk showcases resident artists on their front porches as well as specially featured artists. In addition to fine art, CPRV Front Porch Art Walk has expanded to include pottery, jewelry, hand-made note cards, masks, knitted creations, decorative items, upcycled art, and other crafts. Free and open to the public, the CPRV Art Walk encourages participants to visit both neighborhoods on foot, bike, or by car.
Newport News Fall Festival of Folklife
The Newport News Fall Festival of Folklife is held in annually Newport News Park. This is Hampton Roads Virginia's biggest traditional craft show. The event features over 200 vendors, crafts, trades, entertainment, foods, and children's activities.
Harvest Faire
Harvest Faire is held each October at Endview Plantation in Newport News. Harvest Faire is the Virginia Peninsula's oldest Renaissance Festival. Activities include medieval combat and encampments, knights on horseback, live music and dance, merchants, drum circle, food, and period games.
Hampton Blackbeard Pirate Festival
The annual Blackbeard Pirate Festival celebrates Hampton's maritime heritage and relationship with Blackbeard (Edward Teach), one of the fiercest pirates ever known.
Hampton Jazz Festival
The Hampton Jazz Festival is held each year during the last full weekend in June. Festival organizers evaluate available jazz, R&B and blues artists that are on tour during the time of the festival, bringing in the best musicians possible. Held in the Hampton Coliseum, the venue is highly respected by Hampton residents and visitors.
Norfolk Jazz Festival
Held in Town Point Park over 2 days, this is the region's longest running outdoor jazz festival. The festival recruits nationally known artists as well as a selection of local and regional jazz favorites.
Norfolk Harborfest
Norfolk Harborfest offers activities on land and sea, including tall ships, the Parade of Sail, foods and beverages, boat races, concerts, one of the largest fireworks shows on the East Coast, family activities, and more.
NEON Festival
Norfolk's annual NEON festival encourages visitors to explore and discover the NEON District, which is anchored by the Chrysler Museum of Art and Harrison Opera House and extends to The Plot on Granby Street. The festival celebrates the energy in the NEON District and draws from the passion and creativity in Downtown and the region.
Norfolk Latino Music Festival
This summer festival features the largest outdoor dance floor in Hampton Roads filled with salsa, merengue, and guaguanco dancing and live music by local, regional, and national Latin recording artists.
Virginia Beach Cherry Blossom Festival
The Annual Cherry Blossom Festival celebrates the culture and beauty of Japan. The festival includes music, martial arts, origami, pottery, Gyotaku, and more. Modeled after the National Cherry Blossom Festival in Washington, D.C., the Virginia Beach festival celebrates the goodwill friendship between Japan and the United States, marked by the 100 Yoshino Cherry Blossom trees which were donated as part of the Miyazaki Garden expansion plan, and planted by the Japan Educational Cultural Center and the Miyazaki Sister City Committee in 2005.
Virginia Beach Boardwalk Art Show & Festival
The Virginia Beach Boardwalk Art Show and Festival is one of the Commonwealth's most highly anticipated events. Attendance often exceeds 350,000 visitors and art sales can surpass $2 million annually. The event has been ranked in the top 50 best fine art and design shows in the nation by Sunshine artist magazine. Prize money for artist awards reached over $30,000 in 2008, a milestone which has attracted high-caliber artists and art collectors since.
Pungo Strawberry Festival
Every year the Pungo Strawberry Festival is held in Virginia Beach on Memorial Day weekend. The Festival features strawberries prepared in over 50 different ways, a variety of events, including a pie eating contest, strawberry bake-off, continuous entertainment on three stages, a parade, one of the largest carnivals on the east coast, livestock show and sale, a multi-million dollar military display, pig races, youth art show, and unique arts and crafts. For more information, visit www.pungostrawberryfestival.info
Bayou Boogaloo and Cajun Food Festival
The Bayou Boogaloo and Cajun Food Festival is Norfolk's annual New Orleans and Bayou culture festival. This 3-day summer festival delivers the heart and soul of Louisiana to visitors to Town Point Park in true Cajun and Creole style.
Suffolk Peanut Fest
Suffolk Peanut Fest offers concerts, amusement rides, contests and competitions, a demolition derby, a truck and tractor pull, motorcycle rally, fireworks, as well as local and national entertainment. The event has been featured in numerous magazines, including Virginia Business, Southern Living, The Southern Farmers Almanac, Best Festivals-Mid Atlantic, and others.
Suffolk Mystery Authors Festival
Set in a venue worthy of a story itself, the festival is held at the Suffolk Center for Cultural Arts in historic downtown Suffolk, Virginia. This one-day festival showcases multiple best-selling mystery, suspense, horror, paranormal, romance, and women's fiction authors. Highlights include book signings, fan meet & greets and moderated panel discussions.
Poquoson Seafood Festival
Sponsored by the City of Poquoson, this annual event celebrates the working watermen of the Chesapeake Bay, local seafood, and life along the bay in a coastal City.
Virginia Arts Festival
Begun in 1997 as a way to promote tourism, this spring festival showcases artists from around the world as well as the Virginia's best professional artists. The array of performances include of music, theatre, and dance. Festival events are held in eight cities across Hampton Roads in concert halls, performing arts centers, opera houses, theatres, museums, outdoor stages, and historic churches.
Virginia Wine Festival
Each year, thousands of wine lovers flock to the banks of the Elizabeth River in downtown Norfolk to enjoy the Virginia Wine Festival. The event features music, gourmet foods, specialty wares, and samplings from Virginia's premier wine-makers.
Virginia Beer Festival
This festival celebrates the fine art of beer making. The event features live music, food, and beers from Europe and America. The Virginia Beer Festival is often held in Town Point Park at Norfolk's Waterside.
Related Information
Hampton Roads Food and Drink Festivals