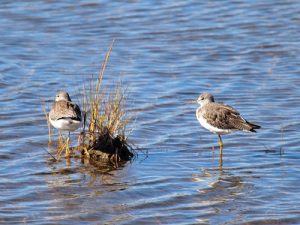 Eco-friendly vacation activities have become extremely popular. As the nation focuses on sustainability, green living practices, and environmental issues, eco-friendly recreation has soared in popularity.
Tidewater Virginia guides and tour operators offer several eco-friendly activities such as kayaking tours, guided fishing trips, birdwatching trips, nature tours, and sailing trips.
Recreational fishing trips were among the first activities to be affected by the Green Movement. As fuel prices have skyrocketed, traditional fishing trips have become more expensive.
Meanwhile a number of outdoor lovers began looking for eco-friendly alternatives to traditional long range fishing charters.
In response, fishing guides have begun offering a variety of eco-friendly trips. Many guides have begun using smaller boats and more efficient engines which make short distance trips. These leaner setups use less fuel while still providing anglers with outdoor adventures.
Sailing trips are another choice in eco-friendly water sports. Since the invention of sailing craft, mariners have harnessed the wind to propel their craft without needing an energy source.
Sailing is enjoyable and a great family activity. Options include sailboats, sailboards and other craft. Types of sailing trips vary from simple tours to hands-on sailing charters that can last a full day or even multiple days.
Kayaking is an extremely popular eco-friendly sport. Kayaking guides offer a variety of trips on local waterways ranging from short excursions to all day trips. Kayaking is relaxing and an excellent way to explore estuaries and see wildlife up close.
River tours are often eco-friendly. These come in a variety of formats, with most tour boats consuming relatively small amounts of fuel. Some types of river tours actually involve no fuel consumption, instead relying on human powered propulsion or one-way trips where craft are carried down a river system by the current.
Each of these types of recreation offer a fun filled day on the water while still being environmentally-friendly.
Published: June 3, 2010 | Updated: January 31, 2018
Related Information