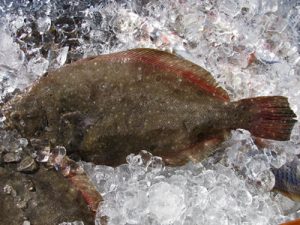 A bounty of seafood is available in Hampton Roads, with catches of fish and shellfish varying by season.
In the deep Atlantic waters off the Virginia Coast, commercial fishing boats catch flounder and other species of saltwater fish and land their catch in Hampton Roads.
Flounder are flat fish with both eyes on one side. Their back is brown in color while the underside is white. Flounder typically weigh 3-5 pounds but sometimes exceed 10 pounds.
There are several ways to enjoy Virginia flounder at its peak. A popular way is to visit a coastal restaurant that specializes in serving fresh local seafood.
Area restaurants sometimes announce specials when local seafood such as fresh flounder are available.
Another way to obtain fresh flounder is to visit a reputable seafood market in the Tidewater area. Most seafood markets offer fresh flounder and other groundfish when they are available.
Buying fresh flounder and other seasonal seafood is popular in the region, in especially among local residents.
Flounder are very easy to clean and a good value in terms of final yield. A good fish monger can net as much as 60% or more of the total weight of a summer flounder as boneless skin on fillets.
Flounder meat is white, fine grained and mild tasting.
Published: April 6, 2010 | Updated: January 31, 2018