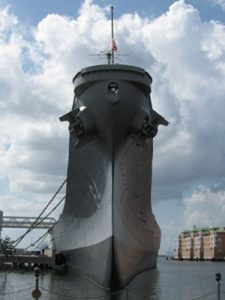 Norfolk is one of Tidewater Virginia's most beautiful communities. The city is a mix of shopping, museums, historical buildings, industrial complexes, and residential neighborhoods. For visitors, there are always plenty of exciting things to do in Norfolk.
Waterside is Norfolk's premier destination for tourists and vacationers. Waterside is home to Nauticus, Battleship Wisconsin, Town Point Park, MacArthur Center, restaurants, taverns, motels, clubs, and more.
Nauticus is a great family destination located on the Norfolk waterfront. Nauticus is adjacent to Waterside and Town Point Park. Exhibits at this 120,000 square-foot science and technology center include touch tanks, a shark petting lagoon, weather deck, and an Aegis-class destroyer battle simulation.
Also part of the complex is the Hampton Roads Naval Museum, National Oceanic Atmospheric Administration exhibits, and the historic Battleship Wisconsin.
MacArthur Center is an ideal destination for shoppers. This upscale mall features plenty of parking, restaurants, movie theaters, and an ever-changing array of shops and boutiques.
Norfolk is famous for its compliment of outstanding restaurants. Visitors and locals alike flock to Granby Street and the surrounding nearby blocks to find many of the best Virginia cuisine and nightlife.
For dining enthusiasts, Norfolk Walkabouts Food Tours dine in locally owned, community rooted restaurants throughout the city.
The NorVa is a good stop for music-lovers. This unique building has a state-of-the-art sound system and excellent view of the stage from anywhere in the venue. The NorVa is a general admission venue with no fixed seating.
There are a number of chairs and tables located on both the first and second floors. The attraction is located at 317 Monticello Ave. in downtown Norfolk, VA, right across the street from MacArthur Mall.
The Chrysler Museum of Art is a kid-friendly museum that actively encourages families to visit and explore. Exhibits include one of the country's top collection of glass art, as well as the Ancient Worlds section where audiences will find Egyptian, pre-Columbian, and Asian exhibitions.
Ferries and water taxis carry passengers across the Elizabeth River between Portsmouth and Norfolk. The Elizabeth River Ferry provides pedestrian ferry crossings on the Elizabeth River between Portsmouth and Norfolk.
The ferry departs from High Street Landing and North Landing in Portsmouth and arrives at Waterside in Norfolk. A water taxi carries passengers between Olde Towne Portsmouth and downtown Norfolk.
Norfolk is a great location to practice outdoor photography. Subjects include the many mermaid statues, historic buildings, Battleship Wisconsin, wildlife, plants, local events, and other scenery.
Each season, Norfolk offers a full schedule of festivals. Locals and visitors alike attend festivals, art shows, and other events. Harborfest is one of the most popular Norfolk events. Held at Waterside, the festival features seafood, bands, refreshments, tall ships and more.
The Norfolk Jazz Festival is the region's longest running outdoor jazz festival. The event showcases nationally known artists as well as a selection of local and regional jazz favorites. The 2 day festival is held in Town Point Park.
The Virginia Wine Festival is an annual event held in downtown Norfolk. The festival has music, gourmet foods, specialty wares, and samplings of wines from Virginia's top wineries.
The Virginia Beer Festival celebrates beer making. The event features live music, food, and an extensive selection of beers from Europe and America. The Virginia Beer Festival is often held in the Town Point Park at Norfolk's Waterside.
Published: May 27, 2011 | Updated: January 31, 2018
Related Information