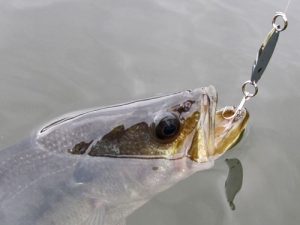 A three-year largemouth bass stocking project in Back Bay began in May of 2012, according to the Virginia Department of Game and Inland Fisheries (DGIF).
The stocking program follows an experimental stocking of approximately 75,000 surplus largemouth bass fingerlings in 2009.
Success of the initial bass stocking led DGIF to undertake the new Back Bay largemouth bass restoration effort.
For the 2012 stocking, F-1 hybrid bass were chosen, a cross between northern strain largemouth bass and Florida strain largemouth bass.
The 1-2 inch fingerlings were chemically marked to allow DGIF staff to track their movement, survival, and distribution within the bay.
Back Bay was noted in the late 1970s as one of the top trophy bass fisheries in the nation. The waterway's bass fishery peaked in 1980, when 240 citation-sized largemouth bass (eight pounds +) were reported to be caught in the bay.
According to DGIF, Back Bay has undergone a tremendous recovery in terms of water quality and the growth of submerged aquatic vegetation (SAV) in recent years.
source: Virginia Department of Game and Inland Fisheries (DGIF)
Published: March 3, 2012 | Updated: February 1, 2018