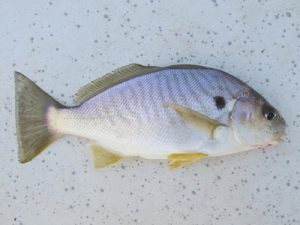 From late summer through early fall, spot are abundant in Virginia. These small but delicious saltwater fish can be caught fresh or bought from local seafood markets during the fishing season.
How to Catch Spot
Spot sometimes show up around Hampton Roads as early as June but the best runs often occur in early fall.
They can be caught at local fishing piers, in the surf, around inlets, or by boat in a variety of locations.
Spot are notorious bait stealers but can be caught using small morsels of bait and sharp hooks.
Although they can be expensive, bloodworms are by far the most effective bait for catching spot. As their name implies, these saltwater baits are blood filled, which helps attract spot and other bottom fish.
Other popular baits include peeler crabs, clams, and pre-packaged scented baits.
How to Clean and Cook Spot
To clean spot, scale and rinse each fish, then carefully fillet the meat from each side. Once filleted, spot can be cooked skin-on or the fillets can be cut from skin.
After filleting, several small bones will remain in the area behind the pectoral fins. By cutting a v shape in the front of each fillet, these small bones can be eliminated.
After cleaning, the fillets should be refrigerated and soaked in water with a dash of sea salt for a few hours. Before frying, rinse fillets and allow them to drain thoroughly before breading.
Dredge each fillet in egg and then place in a plastic bag of flour or seafood breader mix and shake well. Fry fillets in hot peanut oil until lightly browned.
Drain well and serve hot with cole slaw, biscuits, or other traditional side dishes.
Published: September 1, 2011 | Updated: February 1, 2018
Related Information