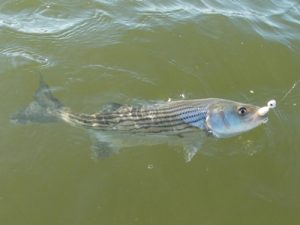 Virginia offers some of the best winter striped bass fishing in the USA. Trophy class striped bass, known locally as "rockfish" winter off the Virginia – North Carolina coast before migrating each spring into brackish estuaries to spawn.
Winter fishing for striped bass occurs along Virginia's coastline, from the surf out 3 miles.
Although striped bass are sometimes found as far as 20 miles off the coast during the winter season, Federal regulations prohibit anglers from fishing beyond 3 nautical miles from the shoreline.
Virginia's winter striped bass fishing is almost exclusively done by trolling. Most captains troll as slow as possible, typically from 2-4 knots.
A variety of specialized lures are added in a spread which covers a variety of water depths. Large jigs dominate the fishing, with several styles being somewhat unique to the region.
Most fishermen feel that lure color is important. White and chartreuse are the most common colors, although other colors or patterns are sometimes productive.
The umbrella rig, a local favorite, is one of the more unusual lures in saltwater fishing. The rig consists of 3-8 wire arms, with each arm equipped with one or more plastic teasers or lures.
The arms radiate from a center weight that has a snap swivel built in. Trailing the center weight is usually the main lure. There are countless variations of the umbrella rig, although the most common is a simple 4 arm model equipped with shad bodies and a center-rigged bucktail jig which is also rigged with a soft plastic shad body.
Variations of the basic umbrella rig often include other types of soft plastic teasers or alternative choices for the center-rigged lure. A few captains substitute the center-rigged jig with a "Tomic" swimming plug or other large lure.
Regardless of the setup, umbrella rigs work by mimicking a school of baitfish. Striped bass detect the lure, then grab the center-rigged main lure or one of the smaller lures or teasers on the arms.
There are several strategies for fishing umbrella rigs. Some fishermen jig the rods when a school of baitfish appear on fishfinder screens. Boat captains may also maneuver the boat when in productive areas, bumping the boat in and out of gear or making turns which causes the lures to move up and down through the water column.
Due to unpredictable winter weather, cold water temperatures, and other factors, the bulk of Virginia's winter striped bass fishing is done on local fishing charter boats. Local charter boat captains and guides have the equipment, experience, and knowledge required to safely fish the near-shore ocean waters.
A typical day of fishing usually begins before sunrise. The captain and mate arrive early to prepare the boat, fishing outfits, lures, and other equipment for the day's fishing. At a pre-designated time, anglers arrive and load personal items for the trip.
Most fishing charter captains require a deposit at the time of booking, with the remainder due on the day of the trip (some captains require payment in full before departing from the slip). Tipping normally adds an additional 15-20% to the trip cost. Fish cleaning fees may also apply, depending on the boat.
After a day's fishing, anglers usually return to port with a catch of striped bass. Fish range from schoolies to trophy class stripers of 30 pounds or more. Although winter temperatures are usually cool, fish are usually kept on ice until time to clean them.
Striped bass are usually filleted. Their skin can be peeled off or cut away from the meat. The latter technique is preferred by many anglers as it yields a premium fillet with almost no dark meat. In contrast, pulling the skin off with pliers before the fillets are removed yields more meat per fish.
Striped bass fillets should be kept chilled at all times. At home they should be rinsed thoroughly and cooked within about one day or frozen for consumption at a later time. Striped bass meat is firm, flaky, and mild tasting. It can be served grilled, baked, fried, broiled, or used in recipes such as fish chowder.
Published: January 2, 2012 | Updated: February 1, 2018
Related Information