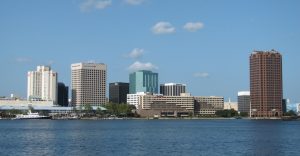 In 2015, the City of Norfolk announced the opening of a new section along the Elizabeth River Trail.
The trail consists of a 10.5 mile pedestrian and bike path which runs from Norfolk State University to the corner Hampton Boulevard at Terminal Boulevard.
The new section crosses Lambert's Creek, runs behind the Mallory Country Club and Weyanoke Sanctuary up to Jeff Robertson Park.
Numerous Norfolk landmarks are located along the trail, including Harbor Park, Fort Norfolk, Chelsea Business district, the U.S.S. Wisconsin, and others.
source: City of Norfolk
Published: September 16, 2015 | Updated: February 2, 2018