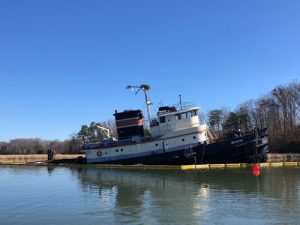 In January, 2018, a U.S. Coast Guard pollution response team investigated an oil spill from a partially submerged tugboat on Skiffes Creek, a tributary of the James River, north of Fort Eustis, Virginia.
The incident began on Saturday, January 20, when a passing tugboat captain contacted Coast Guard Sector Hampton Roads watchstanders to report the moored, partially submerged, 100-foot tugboat, Bourne, which was discharging black oil.
The Coast Guard pollution response team and the Newport News Hazardous Materials Team responded to survey the scene and deploy boom Saturday night.
It is estimated that the Bourne has a fuel capacity of approximately 21,000 gallons and discharged approximately 5 to 10 gallons of motor oil.
The Coast Guard, the Newport News HAZMAT team and the Virginia Department of Emergency Management deployed sorbent pads and boom Saturday and Sunday.
The quantity of fuel that was on board the tugboat when it submerged was unknown.
The Coast Guard was unable to contact the owner of the vessel. The Oil Spill Liability Trust Fund was opened to pay for response efforts.
An oil spill response organization has been contracted to conduct the cleanup operations, which will include removing the remaining oil in the tug's tanks.
The Coast Guard issued a safety marine information broadcast to encourage mariners to remain clear of the waterway near the site until operations have been completed.
"We will thoroughly monitor cleanup operations," said Lt. j.g. Stasia Ellis, a marine environmental response chief at Sector Hampton Roads. "The Coast Guard's main concern is ensuring minimal impact to the environment and maximum safety to the local boating community."
source: U.S. Coast Guard 5th District