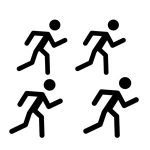 The public is invited to the 4th Annual Newport News One City Marathon (OCM) Weekend presented by Newport News Shipbuilding. happening Friday, March 2 through Sunday, March 4, 2018.
Running a week earlier this year, the One City Marathon (OCM) promotes the idea that indeed, "We Are One City."
There are four affordable races that runners can register for online. Rates increase the weekend of the race so participants are encouraged to register early.
Participants that don't plan on running are invited to attend a free, two-day Health & Wellness Expo presented by Riverside Health System. Stop by Denbigh Community Center on Friday from 12-7 p.m. or Saturday from 10 a.m. – 5 p.m. to find a variety of fitness and nutrition related vendors, preventative health information, interactive games and training evaluations.
A celebration at the One City Marathon Family Fit and Fun Day will be held Saturday from noon to 3 p.m. The event will include a range of free activities the whole family can enjoy. The event takes place in the newly developed Brooks Crossing on Jefferson Ave.
Also on Saturday is this year's pasta dinner, sponsored by Riverside Health System and held at the new Boathouse Live venue in City Center. The event begins at 6 p.m. Tickets can be purchased at www.onecitymarathon.com.
After the races on Sunday, attendees can party behind the finish line at One City One Celebration at Victory Landing Park from 8 a.m. to 2 p.m. The celebration will include music, food, runner relaxation areas, games, and more.
For more information, visit www.onecitymarathon.com.
source: City of Newport News