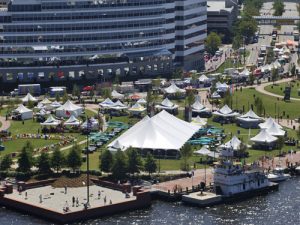 42nd Annual Norfolk Harborfest
Town Point Park
Norfolk, VA
Friday, June 8, 2018: 12pm-11pm
Saturday, June 9, 2018: 12pm-11pm
Sunday, June 10, 2018: 10am-6pm
Now in its 42nd year, Norfolk Harborfest® will span three days: Friday-Sunday, June 8-10, 2018 on the downtown Norfolk, VA waterfront in Town Point Park.
The historic waterfront festival offers a weekend packed with thrilling activities on land and sea to include tall ships and the Parade of Sail, artisan foods and beverages, work boat races, concert performances, one of the largest fireworks shows on the East Coast, family activities, national and regional entertainment, and more.
Music Lineup

On Friday, musical performances will include American Authors and Super Doppler.
On Southern Rock Saturday, Atlanta Rhythm Section, Firefall, and Pure Prairie League are scheduled to perform.
To conclude day one, one of the largest waterfront fireworks shows on the East Coast begins at 9:30 pm.
On Sunday, June 10, 2018, The Family Stone, will perform on the Main Stage at 4:30 pm.
Water Events
The Parade of Sail, under the direction of the Virginia Pilots Association, will enter the Downtown Norfolk Harbor on Friday, June 8 at 12 pm.
The 2018 Parade of Sail fleet will include tall ships, character vessels, power cruisers, sailing craft, antique and classic wooden boats, military vessels, tugs, and more.
From vantage points along the Elizabeth River, spectators can view the fleet as it moves down the river towards Town Point Park.
Other water activities will include Coastal Riverine Force demonstrations, Tug Boat Muster, Chesapeake Bay Workboat parade, workboat races, and Ultimate Build-a-Boat Challenge and race.
The 42nd Norfolk Harborfest is free and open to the public and will occur rain or shine.
Norfolk Harborfest is America's largest, longest-running, free maritime festival.
Related Information