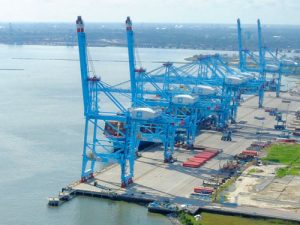 In 2017, the Port of Virginia set a new annual record for container cargo volume having handled more than 2.84 million twenty-foot equivalent units, or TEUs, a 7 percent increase over the previous year's total.
In 2017, loaded import and export volumes were up 8.6 percent and about 1 percent, respectively, over the prior year. The port saw increases in TEUs, truck volume, rail volume, and total volume at Richmond Marine Terminal (RMT), the port's growing barge terminal on the James River. Further, the port saw the number of new import vehicles (cars) at Newport News Marine Terminal jump 22.5 percent.
"For calendar 2017, we had a perfect streak with every month setting a new month-record, bringing us to a new annual record and did this while undertaking the largest infrastructure project in the port's history." said John F. Reinhart, CEO and executive director of the Virginia Port Authority.
The number of ships calling Virginia dropped by 9 percent in 2017. Fewer ships, but bigger in size with increasing cargo loads is a trend that was expected and one that will continue, Reinhart said.
The increasing vessel sizes are the driver of the terminal expansion projects and larger effort to dredge the Norfolk Harbor to 55 feet and widen its in- and out-bound commercial navigation channels.
Reinhart also noted that the port is a significant driver of economic investment and jobs throughout the Commonwealth. In 2017, the port was instrumental in helping to generate 5,525 jobs and the development of 3.37 million square feet of space that had a total investment value of $1.02 billion.
source: Virginia Port Authority