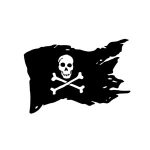 Pirates Invade Yorktown
April 28, 2018 – 10:00 AM - 6:00 PM
Riverwalk Landing
331 Water Street
Yorktown, VA 23690
757.890.3500
Pirates Invade Yorktown will be held April 28, 2018 from 10:00 am. to 6:00 pm. at Riverwalk Landing on the Historic Yorktown waterfront.
The event celebrates the Golden Age of Piracy as Riverwalk Landing and the Watermen's Museum are invaded by seafaring marauders.
History buffs of all ages are invited to the Historic Yorktown waterfront to learn lessons and legends from pirates' lives in the 17th and 18th centuries.
Pirates Invade Yorktown includes plenty of family activities: cannon demonstrations, a pirate encampment, pirate school, mock pirate trial, sing along with the sea shanties.
Kids can sail the waters of the York River with Captain Mayhem. Schooner sails require a paid ticket.
For more informaton, go to www.visityorktown.org