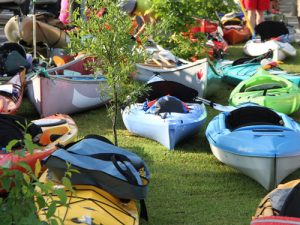 15th Annual Paddle for the Border
May 5, 2018 – 7:30 AM – 1:00 PM
Dismal Swamp State Park Canal Bridge (South Mills, NC) to Ballahack Road Boat Ramp (Chesapeake, VA)
The 15th annual Paddle for the Border event will be held on Saturday, May 5th, 2018. This popular canoe/kayak trek allows participants to paddle 7.5 miles along the historic Dismal Swamp Canal.
Boaters will launch at the Dismal Swamp State Park canal bridge in South Mills, NC and paddle at their own pace to Ballahack Road Boat Ramp in Chesapeake, VA.
Registration opens in January and fills quickly. Open registration runs from January 2nd to April 6th, 2018. The fee is $40 per person and includes a "grab-and-go" breakfast, picnic lunch at the end of the journey and your choice of a T-shirt or hat.
Late registration (April 7th – until full) requires participants to register online only and add a $10 late fee. Paddlers can register online at www.cityofchesapeake.net/paddle and by mail-in, walk-in or drop-off. For more information call 1-877-771-8333.
The event is a joint effort by Chesapeake Parks, Recreation and Tourism, North Carolina's Dismal Swamp State Park, U.S. Army Corps of Engineers, Camden County, and the Dismal Swamp Canal Welcome Center.
For more information, contact: Chesapeake Parks, Recreation and Tourism at 757-382-6411.