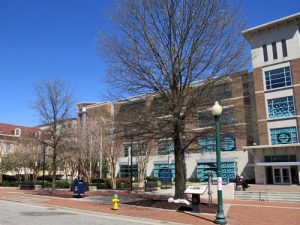 The sixth season of Downtown Norfolk Council's First Fridays street parties starts Friday, April 6th, 2018 in the heart of Granby Street.
For the 2018 season, Norfolk First Fridays events run from 5 pm to 8:30 pm with live music, food, drinks, friends, and fun. First Fridays are free and open to the public.
"First Fridays is the perfect starting point to meet friends, hear great music and let the evening unfold with even more dining and entertainment options within walking distance," said Downtown Norfolk Council President & CEO Mary Miller.
2018 Norfolk First Fridays Events:
Friday, April 6
Super Doppler (formerly Major and the Monbacks) – Local Favorite, Southern Rock and Soul
TCC Plaza, 300 Block of Granby Street
Friday, May 4
BJ Griffin and the Galaxy Groove – Pop, Funk, Soul, R&B
The Plot, NEON District
Friday, June 1
Hot Gumbo Brass Band – Second-line Funk, Hip Hop, Reggae, Pop, R&B and DJ CanRock – Best DJ 2017 Veer Local Music Awards
TCC Plaza, 300 Block of Granby Street
Friday, August 3
Guava Jam Band – 70's to current, Classic Rock, Country and Dance
TCC Plaza, 300 Block of Granby Street
Friday, September 7
Bennett Wales and the Relief – Five-piece Rock & Roll and LittKeys – Hip Hop, R&B, Old School
TCC Plaza, 300 Block of Granby Street
Friday, October 5
The Deloreans – 80's Show Band
TCC Plaza, 300 Block of Granby Street
"First Fridays is an event for everyone," said Miles Leon, president of S. L. Nusbaum Realty Co., the presenting sponsor along with Wells Fargo Center. "We've participated in this street party from the beginning, and it's always a great event for residents, downtown workers and visitors to experience downtown in a lively and fun environment."
source: City of Norfolk
Related Information