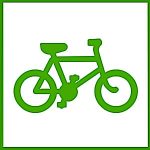 In April, 2018, Pace, a nationwide dockless bike sharing service for cities and colleges, launched in Norfolk, Va. Pace Norfolk will allow residents, students and visitors to make point-to-point trips in and around the city with just a tap on their smartphones.
Norfolk riders can start, hold and end rides at any public bike rack, or at any of the dedicated Pace parking racks cited in key locations. This mix of strategically placed bike share parking, plus the freedom of being able to lock Pace bikes to public racks, enables true point-to-point travel while ensuring riders can reliably add bike sharing to their daily transit mix.
Pace mitigates the drawbacks of completely "free-floating" dockless services. Pace ensures shared bikes are properly parked with a unique, lock-to platform that secures bikes to fixed objects, not just to themselves, when not in use.
Pace also provides dedicated bike parking to encourage routine use, and makes it easy in the app to find and lock to public bike racks so riders can easily enjoy the convenience of point-to-point travel, too.
Sponsors of Pace Norfolk include: Downtown Norfolk Council, Visit Norfolk, Sentara Healthcare, TRAFFIX – Service of Hampton Roads Transit, IPConfigure, Inc. and Wells Fargo Center.
"We are excited to bring Pace to Norfolk. This bike share program will increase mobility and further our commitment to sustainable modes of transportation. Our partnership with Pace gives residents a convenient opportunity for a healthy commute and provides visitors the chance to enhance their experience while enjoying our city," said Mayor Kenneth Cooper Alexander.
To ride Pace, simply download the free Pace bike share app, available in the App Store or Google Play. Riders find available bikes and parking locations in the app, and can unlock bikes at the touch of a button. Pace rides in Norfolk cost $1 per half hour and the first 30-minute ride for every new user is free.
For information on Pace Norfolk, visit ridepace.com/norfolk.
source: City of Norfolk