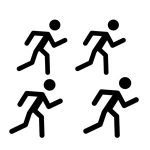 Waterwalk at Central Park, a 2 1/4 mile linear park that will connect Air Power Park and the Power Plant shopping area, will have a grand opening and ribbon-cutting at 10 a.m. on May 12.
The new park will provide an expanded, multi-use pathway serving shoppers, convention- and concert-goers, area residents, joggers, and tourists.
Opposite ends of the park will open first. There is a 1.6-mile loop for walkers or joggers in the commercial area from Bass Pro to the Hampton Coliseum. Behind Air Power Park, meanwhile, an elevated walkway will provide a quiet place to observe nature.
The walkway has views of Newmarket Creek and surrounding wildlife, including herons, egrets, redwing blackbirds, and more. The full trail, which will run along Pine Chapel Road and Freeman Drive, is scheduled to be finished by spring of 2019.
The grand opening at Air Power Park will include music, children's activities, tours through the park, food trucks, plein air painters, information about the famous Tuskegee Airmen, and a stroll on the elevated walkway. Although Waterwalk will normally be open for bicyclists, the walkway will be pedestrian-only during the grand opening.
Waterwalk will cost about $5.4 million (including road improvements and realignment), with more than 60% paid for by state and federal dollars. City taxpayers will pay about $2 million. Parts of the new park will get new lighting, and the city is working on grants and partnerships that would provide signs and benches.
source: City of Hampton