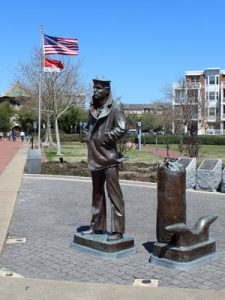 Several cities in the Hampton Roads area will hold special events in observance of Memorial Day Monday, May 28, 2018.
Portsmouth
The Portsmouth Memorial Day Parade, a tradition since 1884, takes place at 10 a.m., May 28. The Memorial Day Parade is one of the oldest parades in the country commemorating the holiday. This year's grand marshal is Rear Admiral Anne M. Swap Commander, Navy Medicine East at Naval Medical Center Portsmouth.
The annual event salutes the service and sacrifices of the men and women in the U.S. Armed Forces. Spectators will enjoy floats, various marching bands, drill teams and more. The parade travels from Peninsula Avenue, at I.C. Norcom High School, and continues on High Street to Crawford Street.
For more information, visit www.portsvaevents.com.
Norfolk
**** UPDATE – location changed to Nauticus Threater ****
The City of Norfolk will host a Memorial Day Wreath-Laying Ceremony inside the Nauticus Theater at 2 p.m. Guest speaker for the ceremony is Vice Admiral Bruce H. Lindsey, Deputy Commander of the U.S. Fleet Forces Command. Norfolk's Memorial Day Ceremony also features performances by the U.S. Fleet Forces Band and POW/MIA table by Norfolk Combined Veterans Organizations. The event is co-sponsored by the Mayor's Commission on Veterans Affairs.
Virginia Beach
The public is invited to join Mayor Louis R. Jones, NAS Oceana Commanding Officer, Captain Chad Vincelette and the Mayor's Veterans Committee as they host the annual Memorial Day Ceremony Monday, May 28 at noon at the Tidewater Veterans Memorial. This annual event is held to honor and pay tribute to the men and women of the armed forces "who gave their all."
There will be a 21-gun salute, invocation, singing of the national anthem, opening remarks by the Mayor and then a keynote address by Captain Vincelette.
Military commands and organizations are invited to place wreaths at the memorial and the public is invited to place an American flag (provided) around the base of the memorial to honor a relative or friend (please arrive prior to the ceremony).
For more details, visit VBgov.com
Hampton
Memorial Day and Flag Retirement Ceremony
May 28, 2018 @ 11:30 am – 1:00 pm
Colonies RV and Travel Park
501 Fenwick Rd
Hampton, VA 23651
The public is invited to Fort Monroe National Monument on Memorial Day to honor the fallen men and women in service of the United States. At the event, a dropbox will be available at the Colonies RV & Travel Park to retire worn, torn, and faded flags with dignity and respect. Seating may be limited, please bring a chair if possible.