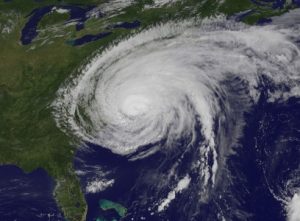 The Atlantic hurricane season runs from June 1 through November 30 each year. According to the National Hurricane Center, this period is the most likely time when hurricanes will occur along the east and gulf coasts.
Forecasters are predicting a total of 14 named storms, with seven hurricanes, and three major hurricanes in 2018.
Hurricane Preparation Resources:
The following resources offer hurricane preparation information.
Visit Ready.gov, ReadyVirginia.gov or ListoVirginia.gov (in Spanish) to find out more about how to prepare for hurricane season.
The Virginia Hurricane Guide is available at: http://www.vaemergency.gov/wp-content/uploads/2018/05/Hurricane-Preparedness-Evacuation-Guide-In-House-Printing-OnlySpread-View.pdf
The American Red Cross (www.redcross.org) provides Hurricane Safety information online. The organization also offers an emergency app in the Apple Store or Google Play.
Information regarding potential hurricanes and other storms can be found the National Hurricane Center (www.nhc.noaa.gov/).
Newport News residents can sign up for NNALERT, the official emergency notification system for the City of Newport News (https://www.nnva.gov/1556/NN-ALERT).
The City of Virginia Beach provides a service called VB Alert. The City uses the VBAlert system to provide rapid voice, email, and text alerts to subscribers when there is a public safety concern. For more information and to register, visit VBgov.com/VBAlert and https://www.vbgov.com/government/departments/communications-office/citypage/Pages/2018-Hurricane-Season.aspx.
Hurricane Kits
Virginia offers a sales tax holiday to ease the burden of purchasing necessary hurricane supplies. Many retailers offer additional sales, but from 12:01 a.m. Friday, Aug. 3, through midnight, Sunday, Aug. 5, all are required to eliminate the state's 6 percent sales tax on most emergency products.
Many items will not be taxed including common supplies priced at $60 or less (listed below), gas-powered chain saws costing $350 or less (plus chain saw accessories priced at $60 or less), and portable generators sold for $1,000 or less. Get the detailed list from the Virginia Department of Taxation here?.
Food is not a qualifying item, but bottled water is. Manufacturer's coupons may also be used to lower the cost of an item so it will qualify for the price cap. The Virginia Department of Emergency Management suggests this list of items? for your emergency kit.
Qualifying items priced $60 or less:
Artificial ice, blue ice, ice packs and reusable ice
Batteries (excluding car or boat batteries)
Portable, self-powered light sources like flashlights, lanterns and glow sticks
Portable, self-powered radios
Two-way radios
Weather band radios and NOAA weather radios
Tarps, plastic sheeting, etc.
Bungee cords and rope
Ground anchor systems or tie-down kits
Ratchet straps
Duct tape
Carbon monoxide detectors
Smoke detectors
Fire extinguishers
Gas or diesel fuel tanks or containers
Water storage containers
Nonelectric food storage coolers
Bottled water
Manual can openers
Storm shutter devices
Cell phone chargers
First aid kits
sources: City of Newport News, City of Virginia Beach