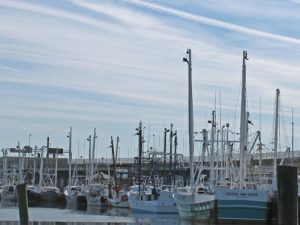 The Newport News Seafood Industrial Park has been awarded a $332,016 grant from the Virginia Port Authority's Aid to Local Ports grant program.
The award was the largest of eight grants from the $1 million allocated by the state for 2018, and will be used to improve the southern portion of the East Bulkhead within the harbor.
The East Bulkhead-Boatyard Project is designed to refurbish about half of the east bulkhead at the southern entrance and modify moorings and concrete to accommodate larger vessel design resulting in significant job creation and tax revenue.
This project creates much needed additional capacity at a boatyard property, refurbishes mooring fenders and concrete damaged by normal wear and tear, and upgrades safety equipment along the bulkhead. Construction is scheduled to begin this summer.
Seafood Industrial Park is a 39-acre city-owned facility located at Newport News Point in the Southeast community and is a hub of commercial marine activity providing lease revenue to the city, tax revenue and local employment.
The Aid to Local Ports Grant Program is a state program to promote and enhance facilities that support commercial marine activities across the Commonwealth. The Port Authority has awarded Newport News over $1.3 million in recent years through three grants for improvement projects within this important maritime facility.
The Seafood Industrial Park's engagement and promotion of the commercial seafood industry and industrial marine activity at Newport News Marine Terminal and beyond has been recognized as a great asset to the Port of Hampton Roads and the Commonwealth.
With the collaboration of the city's Engineering Department, Department of Development and the Virginia Port Authority, this important city facility is being improved significantly for current and future commercial maritime needs at a considerable savings to the taxpayers of Newport News.
source: City of Newport News