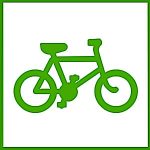 Portsmouth Virginia is listed among American communities honored by the League of American Bicyclists with Bicycle Friendly Community (BFC) awards for 2018. Portsmouth had its existing BFC bronze level status renewed.

The Bronze BFC award recognizes the collaborative county and city commitment to improving conditions for bicycling through investment in bicycling promotion, education programs, infrastructure and pro-bicycling policies. There are currently 464 BFCs in all 50 states and the District of Columbia.

The BFC Program is at the heart of the League's Bicycle Friendly America (BFA) Program, which drives the organization's mission. The League receives financial support for the program from co-sponsor Eco-Counter, a company specializing in people-counting technology.

In addition to awards, the League provides year-round coaching, online tools, trend spotting, and case studies to help communities improve and promote cycling.
To learn more about the BFC program, visit www.bikeleague.org.
Related Information