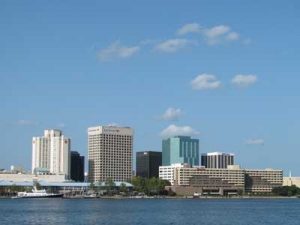 The Center for Digital Government has named Norfolk as America's 2019 Top Digital City (for cities with populations of 125,000 to 249,999).
Now in its 19th year, the annual survey recognizes cities using technology to tackle social challenges, enhance services, strengthen cybersecurity, and more.
The award recognized Norfolk for its use of technology to support a city goal of "promoting inclusive economic growth" and for strategies and innovations including:
Fostering a regional approach to enhancing technology through the vision of a regional fiber ring and cybersecurity policies
Redesigning the Norfolk.gov website
Launching MyNorfolk, a new citizen-centric mobile app and online resident portal for service requests
Expanding the Open Data Portal with more than 35 commonly requested data sets and facilitating the use of data to make informed decisions using Power BI and other technology tools.
Norfolk Mayor Kenneth Cooper Alexander, Ph.D, said he's "honored that the City of Norfolk has earned this distinction. We will remain committed to using technology to improve transparency, address economic and social challenges, and provide great services. Norfolk is collaborating with regional partners to enhance our Technology Zone, connect the city to high-speed transcontinental fiber optic cable, and continue our work to make lower cost broadband services available to every resident and business."
Norfolk is the only Hampton Roads city to win the award and beat out cities such as Augusta, GA, Baton Rouge, LA, Pasadena, CA and Alexandria, VA in the population category.
source: City of Norfolk