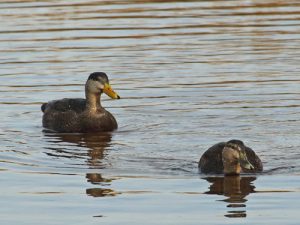 Virginia Beach Parks & Recreation, in partnership with the Virginia Department of Game and Inland Fisheries (VDGIF), is celebrating the 10th anniversary of the Winter Wildlife Festival.
Held in Virginia Beach January 24–26, the 2020 festival will highlight birds, marine mammals, and other wildlife that can be found in coastal Virginia during the winter months.
Three days of guided outdoor field trips offer the chance to see Virginia's winter splendor of coastal birds and wildlife, including a wide diversity of ducks and seabirds, owls, whales, seals, winter songbirds, and more.
On Friday evening, January 24th, keynote speaker, Sharon Stiteler aka "The BirdChick," will kick off the festival along with a special anniversary reception and silent auction benefiting DGIF's Restore the Wild initiative at Zeider's American Dream Theater.
An exhibit hall and children's activities will be held Saturday, January 25 9am – 5pm at the Princess Anne Recreation Center and Library. Walk up workshops on Virginia's birds and wildlife will be offered Saturday – Sunday, January 25–26 at Princess Anne Recreation Center.
Registration begins November 15, 2019.
For more information, visit:
https://www.vbgov.com/government/departments/parks-recreation/special-events/Pages/winter-wildlife-festival.aspx
sources: Virginia Beach Parks and Recreation, Virginia Department of Game and Inland Fisheries