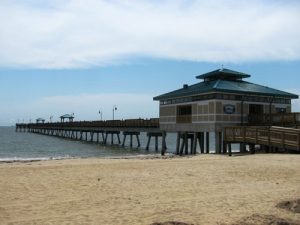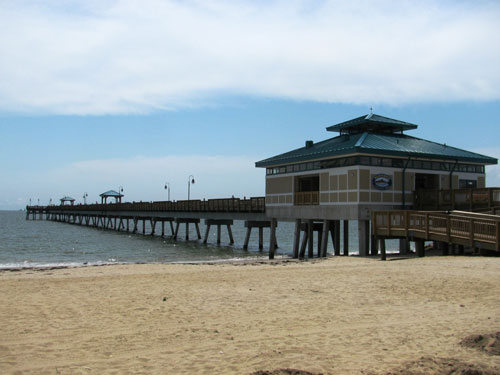 At Buckroe Beach, the James T. Wilson Fishing Pier and property, including the adjacent pier ramp, has been closed to the public.
A loose barge crashed into the 709-foot pier in mid November 2019, causing heavy damage to the structure.
After the collision, crews from Hampton Public Works, police and fire, Virginia Marine Resources Commission (VMRC), and U.S. Coast Guard (USCG), battled weather and tides to remove the barge from the pier.
Within hours of the accident, parts of the fishing pier collapsed into the bay. First responders cleared the area, and there were no injuries, according to the City of Hampton.
Built in 2009, the pier attracts approximately 36,500 visitors a year and generates an annual revenue of $336,815.
The pier is one of the most popular destinations in Hampton Roads for saltwater fishing and other recreation. Its location at Buckroe Beach allows families to combine beach visits with other outdoor activities.
A private fishing pier that was on the site was destroyed by Hurricane Isabel in 2003. After the disaster, the City of Hampton acquired the property and constructed a new pier and bait and snack shop. The Virginia Marine Resources Commission contributed funding for the project.
The new pier is 706 feet long with shelters, cleaning stations and floodlights. In 2015, the Buckroe Fishing Pier was renamed the James T. Wilson Fishing Pier in honor of the city's retiring Parks and Recreation director.
2020 UPDATE
Repairs to the pier are expected to be completed by early August, according to the City of Hampton. The city has hired Marine Contracting for the repair work.
The assessment showed the first two sections of the pier closes to the restroom and bait shop building had collapsed. Two of the pilings supporting the northeast corner of the building are missing, and another is damaged.
Initial work was completed in early January by Precon Marine Inc., which stabilized the fishing pier and repaired damage to the observation pier.
The James T. Wilson Fishing Pier reopened in October, with new protocols in place related to the COVID-19 pandemic. For more information, visit the City of Hampton Virginia website (www.hampton.gov).
source: City of Hampton