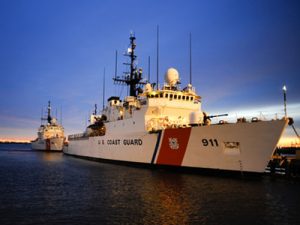 Coast Guard Sector Hampton Roads has changed its name to Coast Guard Sector Virginia. This change recognizes the responsibility the sector has for all Coast Guard mission areas across many of the coastal areas, bays, rivers, and lakes that are within the Commonwealth of Virginia, not just Hampton Roads.
Sector Virginia's area of responsibility, mailing addresses, and phone numbers remain unchanged. Unit email addresses will be updated over time but messages sent to present emails will continue to be received after the changes are made.
Sector Virginia is a tenant unit located on Base Portsmouth in Portsmouth, Virginia. The sector was established with the merging of Marine Safety Office Hampton Roads, Group Hampton Roads, and Group Eastern Shore on July 15, 2005.
Sector Virginia area of responsibility covers the Atlantic Coast from the Virginia/Maryland border to the Virginia/North Carolina border, the Virginia portion of the Chesapeake Bay and its tributaries, the Virginia portion of the Intracoastal Waterway, some inland lakes and the busy commercial ports that comprise the Port of Virginia.
For more information, visit: www.atlanticarea.uscg.mil
sources: U.S. Coast Guard 5th District Local Notice to Mariners (LNM 51/19), U.S. Coast Guard Atlantic Area Sector Virginia webpage.