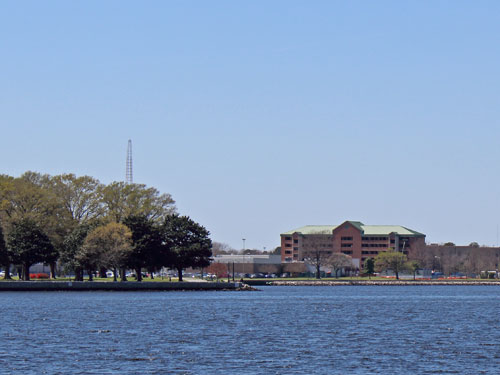 In Norfolk, a new waterfront access point on the Elizabeth River Trail offers outdoor enthusiasts an opportunity to enjoy the iconic Elizabeth River by kayak.
The new public kayak launch located in Plum Point Park is a $246,000 project featuring a floating dock system with ADA equipment, 40-foot aluminum walkway leading to the dock and a 66-foot pier connecting to the Elizabeth River Trail.
The Plum Point Park kayak launch area is near the mid-town tunnel, Fort Norfolk, numerous shipyards, Portsmouth Marine Terminal, Scott Creek, Smith Creek, The Hague, Battleship USS Wisconsin, Hospital Point Park, and other landmarks.
The kayak launch is the first of many amenities planned for Plum Point Park. The park is the first of 11 trailheads planned for development by the Elizabeth River Trail Foundation.
Free, dedicated park parking is located immediately adjacent to the park entrance accessible from the Fort Norfolk Medical Plaza loop.
The kayak launch is made possible with support from the City of Norfolk and an Aid to Local Ports grant awarded to the city with matching funds from the Elizabeth River Trail Foundation.
The Elizabeth River Trail Foundation was also awarded a $10,000 grant from the Edwin S. Webster Foundation to help construct the pier access to the kayak launch.
The project received additional project support by Work Program Architects, Speight, Marshall, Francis P.C., MHI, and the Department of Recreation, Parks and Open Space.
The Elizabeth River Trail Foundation's mission is to promote, enhance and transform the Elizabeth River Trail (ERT) into the most iconic urban riverfront trail in the country.
The Elizabeth River Trail runs 10.5 miles and connects businesses, historic attractions and 28 neighborhoods within a five-minute walk. The multi-use trail is designed for walking, running and biking.
The trail comprises 11 sections and 11 trailheads from Norfolk State University to NIT Terminals along the Elizabeth River. Highlights include Harbor Park, Downtown Norfolk, Freemason Historic District, Sentara campus, Fort Norfolk, Chelsea, West Ghent, Lambert's Point, Old Dominion University, Larchmont, and Lochhaven.
For more information, visit www.elizabethrivertrail.org.
source: City of Norfolk
Related Information