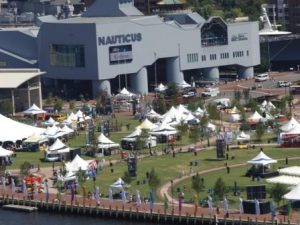 Nauticus is a contemporary museum that uses the natural setting of Norfolk's harbor to showcase global maritime commerce and the world's largest Navy. The Nauticus complex includes the National Maritime Center, the Battleship Wisconsin, and the Hampton Roads Naval Museum.
The facility features hands-on exhibits, wide-screen high-definition films, live theaters, shark touching, and nationally recognized traveling exhibits.
Nauticus is located on the downtown Norfolk waterfront, at 1 Waterside Drive. For more information visit www.nauticus.org.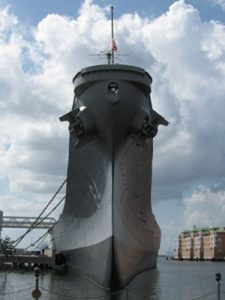 USS Wisconsin
The USS Wisconsin (BB-64) is on exhibit at the Hampton Roads Naval Museum. One of the largest remaining battleships in the world, The Wisconsin has a long history of battle from its beginning right up to the Gulf War.
Owned and operated by the United States Navy, the Hampton Roads Naval Museum is located on level two of Nauticus. Other museum exhibits include collections of uniforms, weaponry, underwater artifacts, ship models and artwork.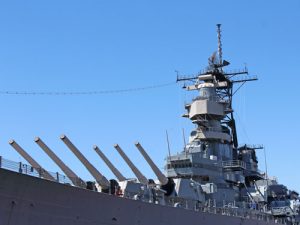 USS Wisconsin Facts:
Displacement: 52,000 tons at full load
Length: 880 feet
Beam: 108 feet
Draft: 36 feet
Main battery: nine 16-inch guns
Secondary battery: twenty 5-inch guns
Anti-aircraft batteries: over 125 forty-millimeter and twenty-millimeter guns
Speed: ~ 30 knots
The USS Wisconsin is one of the largest and last battleships ever built by the U.S. Navy.
The battleship earned five battle stars during World War II.
Related Information