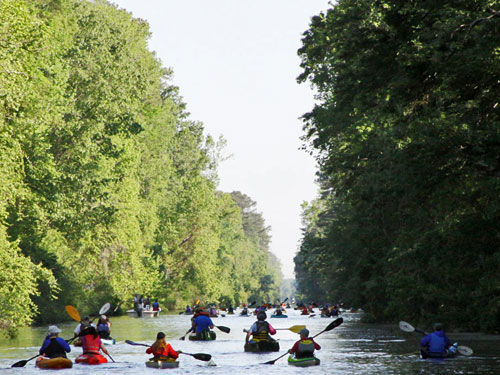 The Dismal Swamp Canal provides an alternate route along the Atlantic Intracoastal Waterway (AIWW). The AIWW is a protected inland channel that extends from Norfolk, Virginia to Key West, Florida.
At its northern end, the canal leads to Deep Creek, a tributary of the Southern Branch Elizabeth River, which flows to the Chesapeake Bay. The southern end of the canal leads to the Pasquotank River, which flows to the Albemarle Sound.
There are two locks on the Dismal Swamp Canal, one at the upper end and the other at the lower end. At Mile 21.5, a feeder ditch from the canal provides small boat access to Lake Drummond. The U.S. Army Corps of Engineers operates and maintains the Dismal Swamp Canal.
The Dismal Swamp Canal is on the National Register of Historic Places as a Historic Landmark. The canal has also been noted as a National Historic Civil Engineering Landmark, and has received the National Underground Railroad Network to Freedom Designation.
The Dismal Swamp Canal is the setting for the annual Paddle for the Border, one of the area's most popular paddlesports events. Paddle for the Border participants paddle canoes, kayaks, and other paddlecraft along a 7.5 mile stretch of the canal.
Related Information