Chincoteague National Wildlife Refuge Waterfowl Weekend
November 28 – December 1, 2019 (Thanksgiving Weekend)
Chincoteague National Wildlife Refuge
Assateague Island, Virginia
Fall heralds the return of thousands of waterfowl from their northern breeding grounds to the milder climate of Chincoteague National Wildlife Refuge.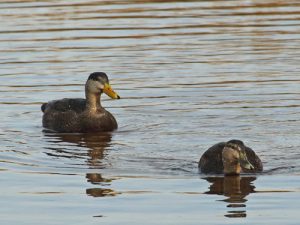 During Thanksgiving weekend, visitors may encounter a variety of overwintering ducks, geese, and swans. place.
Commonly seen waterfowl include mallards, black ducks, teal, gadwalls, northern pintails, buffleheads, ruddy ducks, shovelers, Canada geese, snow geese, and others.
Visitors will enjoy extended hours on the Wildlife Loop Trail, open to vehicles from 9am to dusk on November 28 – December 1, 2019. Please drive cautiously, as this trail is also a hiking and biking route.
During Waterfowl Weekend, extended access is also available for visitors to drive on the Service Road (admittance from 12pm – 2pm, November 28 – December 1 only).
For the special drive, visitors must enter the Wildlife Loop Trail and follow the one-way traffic pattern to the road's entrance. This may take 10 or 15 minutes, due to high volume. All vehicles are expected to completely exit the Service Road by 4 PM.
These four days are the only time each year that the public can drive along the refuge's 7-mile Service Road.
Chincoteague National Wildlife Refuge is one of the most visited refuges in the United States, providing visitors with outstanding opportunities to learn about and enjoy wildlands and wildlife. The refuge includes more than 14,000 acres of beach, dunes, marsh, and maritime forest.
For more information, visit: https://www.fws.gov/refuge/chincoteague/
Related Information