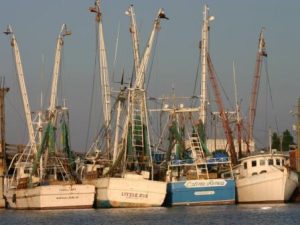 Chincoteague Island (CI) is the jewel of Virginia's Eastern Shore. Its proximity to Mid Atlantic metropolitan areas makes it a popular destination for day trips, weekend getaways, and vacations.
The town of Chincoteague has a reputation as a small, friendly community where families can enjoy a wide range of outdoor activities.
Chincoteague Island is world famous for its wild ponies. The area is also a popular location for bird and wildlife watching, beachcombing, fishing, crabbing, hunting, and other activities.
Just to the east is Assateague Island (AI), home to Chincoteague National Wildlife Refuge (CNWR) and Assateague National Seashore (ANS).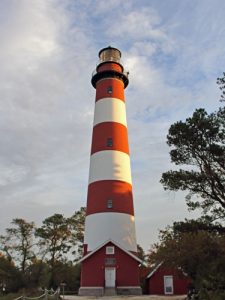 An unmistakable landmark on the island is Assateague Lighthouse. The lighthouse, which is accessible by the public, provides stunning views of Chincoteague Island. Assateague Lighthouse remains an important beacon for ships, small boats, and other maritime traffic.
Chincoteague National Wildlife Refuge is located on the Virginia side of Assateague Island. The refuge consists of over 14,000 acres of beach, dunes, marsh, and maritime forest. The refuge provides habitat for waterfowl, wading birds, shorebirds, song birds, and other species of wildlife and plants. The refuge is also home to the Chincoteague wild ponies.
Scattered across the island are harbors, docks, and other infrastructure associated with local commercial fishing and aquaculture industries. Returning from the Atlantic Ocean, fishermen land a variety of fish and other seafood. Around the island, shellfish farmers produce an abundance of oysters and clams.
To the south lies Wallops Island, home to a NASA launch site, research facilities, military installations, and a national wildlife refuge. Although public access is not allowed on Wallops Island, rocket launches draw considerable interest from enthusiasts. Launches are generally viewed from nearby Chincoteague Island or vantage points on the mainland.
An array of annual events are held in the Town of Chincoteague and nearby locations. Popular events include:
Spring
Easter Decoy & Art Festival
Seafood Festival
International Migratory Bird Celebration
Summer
Wild Pony Swim and Auction
Chincoteague Firemen's Carnival
Blueberry Festival
Fall
National Wildlife Refuge Week Celebration
Oyster Festival
Waterfowl Week
Winter
Holly Day Market and Art Show
Holiday Tree Lighting
Chincoteague Christmas Parade
Polar Pony Plunge
Related Information