The area known as the Historic Triangle is located on the Virginia Peninsula. Formed by Jamestown, Williamsburg, and Yorktown, the Historic Triangle is home to many of the nation's most treasured historic landmarks. The Colonial Parkway provides connects the three historic attractions.
Founded in 1607, Jamestown was one of the first settlements in the American colonies. The settlement began as a fort on Jamestown Island along the James River. Despite repeated setbacks, the settlement survived and served as the capital of the Virginia Colony until 1699 when Williamsburg was founded.
Historic Jamestowne is a National Historic Site and listed on the National Register of Historic Places. The complex is operated as a partnership between Preservation Virginia and the U.S. National Park Service.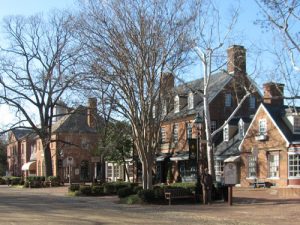 Moored at Jamestown are three replicas of tall ships that brought English colonists to Virginia. The vessels are named Susan Constant, Godspeed, and Discovery. The Jamestown Settlement re-creations have been designated "the official fleet of the Commonwealth" by the Virginia General Assembly.
Colonial Williamsburg serves as a living history museum.The Historic Area includes a mix of restored and replica buildings related to colonial American history. Colonial Williamsburg is designated a National Historic Landmark District.
Situated on the southern bank of the York River, Yorktown forms the third leg of the Historic Triangle. Nearby, Yorktown National Battlefield and Yorktown National Cemetery are part of Colonial National Historical Park.
Related Information