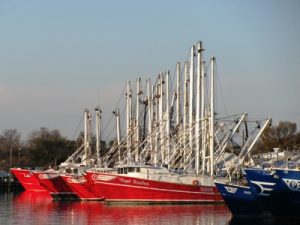 Newport News is located on the Virginia Peninsula, adjacent to Hampton. The city lies along the north shore of the James River, from Skiffe's Creek to the river's mouth at Newport News Point.
The city's extensive waterfront and close proximity to the port of Hampton Roads makes it an ideal location for maritime industries.
The Newport News Marine Terminal (NNMT) is one of Virginia's most important port assets. NNMT is the Virginia Port Authority's main break-bulk and roll-on/roll-off facility.
Newport News Shipbuilding (NNS) occupies much of the Newport News waterfront. A major employer for the Hampton Roads area, NNS specializes in designing, repairing, overhauling, and modernizing naval ships and submarines.
Newport News supports a thriving commercial fishing industry. The Newport News Seafood Industrial Park is one of the busiest fishing ports on the East Coast.
The Seafood Industrial Park contains a variety of fishing operations, processors, and maintenance facilities. The bulk of production involves sea scallops. although crabs, oysters, and finfish also pass through the facility.
Newport News is home to several museums and other exhibits, including Lee Hall Mansion, Mariners Museum – USS Monitor Center, Newsome House Museum and Cultural Center, Peninsula Fine Arts Center, Virginia Living Museum, and Virginia War Museum.
Nearby, Fort Monroe National Monument is one of the area's most prominent historical sites.
For outdoor enthusiasts, the City of Newport News maintains dozens of city parks. The city's municipal parks feature waterfront access, piers for fishing and crabbing, boat launching areas, golf, walking trails, and other resources.
Each year, the city hosts several of the area's most popular festivals. During the warm season, activities include an annual Children's Festival, World Arts Celebration, Fourth of July Celebration, Summer Wine Festival, and others.
Held in Autumn, the Newport News Fall Festival of Folklife is one of largest traditional craft shows in the state. During the winter season, Hollydazzle and Celebration in Lights attract visitors.
The city of Newport News is named for Captain Christopher Newport who commanded three ships that the Virginia Company sent to America.
Related Information