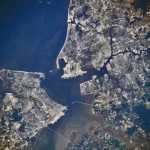 The Hampton Roads region of Virginia includes Norfolk, Portsmouth, Newport News, Chesapeake, Hampton, Virginia Beach, and Suffolk.
The port of Hampton Roads is considered to be one of the best natural harbors in the world. Along its southern shores, Norfolk and Portsmouth are home to the largest naval base in the United States.
Located nearby are Coast Guard, Air Force, Marines, Army, and many of the nation's top shipbuilding facilities.
In 1862, Hampton Roads was the location of a major Civil War battle between the ironclad ships Merrimack and Monitor. The region's rich history is commemorated by a number of local museums, landmarks, and parks.
Related Information