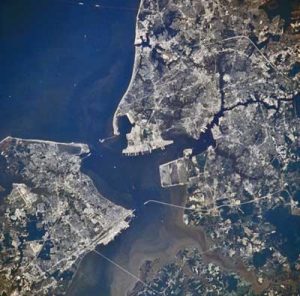 The Port of Hampton Roads is one the most important harbors of the U.S. Atlantic Coast. This unique natural harbor is formed by the merging of three major rivers, the James, Nansemond, and Elizabeth, together with several smaller tributaries.
Between Hampton and Norfolk, the lower Chesapeake Bay merges with the harbor of Hampton Roads. A few miles to the east, the estuary merges with the Atlantic Ocean, creating a treacherous formation of shoals, channels, and tide rips.
Vessels arriving from the Chesapeake Bay or Atlantic Coast enter the port of Hampton Roads enroute to Norfolk, Hampton, Newport News, Portsmouth, Suffolk, and other areas.
Surrounding the Port of Hampton Roads are several important landmarks, including Fort Monroe, Fort Wool, the Hampton Tunnel, and the James River Bridge.
Related Information