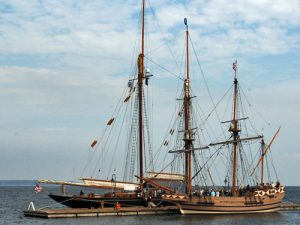 From the confluence of the Mattaponi and Pamunkey rivers, the York River flows approximately 34 miles before emptying into the Chesapeake Bay near Yorktown. Along its path are several tributaries that are navigable by small craft.
The York River separates the Middle Peninsula and the Lower Peninsula. Located along the river are the communities of West Point, Allmondsville, Gloucester Point, Yorktown, and numerous small villages.
The George P. Coleman Memorial Bridge spans the York River between Yorktown and Gloucester Point.
The York River is a source of local seafood including oysters, crabs, and fish. The river contains spawning habitat for a variety of anadromous fish including American shad, hickory shad, river herring, Atlantic sturgeon, and striped bass. In the lower York, croakers, spot, seatrout, red drum, bluefish, flounder, and other saltwater fish are common.
Public access is available at several locations along the river.
Located near West Point, Glass Island Landing includes a fishing pier, boat ramp, picnicking facilities, and parking for autos and boat trailers.
At York River State Park, Croaker Landing includes a boat ramp, fishing pier, parking, restrooms, and shoreline access.
In Gloucester, Virginia, Gloucester Point Landing Fishing Pier provides pier fishermen with access to the York.
Riverwalk Landing in Yorktown is one of the most popular public areas along the York River. Two piers at Riverwalk Landing provide docking for tall ships and transient boaters. Also located along the pedestrian riverwalk is a public beach, picnic areas, and a fishing pier.
The York River entrance channel is well marked. Near the river's mouth, York Spit Light is well known to mariners.
Related Information