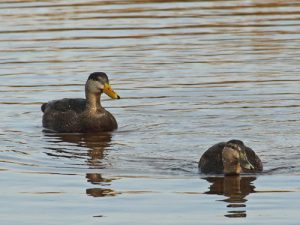 With scores of things to do and explore, winter can be a good time to visit Tidewater Virginia. This article describes a few of the many wintertime activities that are available in the region. Also included are things to do in the days leading up to and just after winter.
Holiday Events
There are numerous Christmas and other winter holiday events throughout Tidewater Virginia. Christmas events include traditional tree lightings, parades, holiday light shows, theatre, concerts, special historical exhibits, shopping bazaars, and more.
Other winter holidays and special days include New Year's Eve, New Year's Day, Martin Luther King Day, Valentine's Day, and President's Day.
Arts
The Tidewater Region is known for its array of arts including visual arts, music, and theatre. Several large facilities are found in Hampton Roads.
Many of the area's top arts resources are found at local colleges and universities. Not to be overlooked are small town theatres, stages, galleries, and clubs that offer unique events.
Museums and Historical Sites
In Hampton, Fort Monroe, Langley Air Force Base, NASA Langley Research Center, and the Virginia Air and Space Center are popular destinations for military history enthusiasts.
In Norfolk, attractions include Nauticus, battleship USS Wisconsin, Hampton Roads Naval Museum, Chrysler Museum of Art, public murals, and other exhibits.
Located on the Northern Neck is Kilmarnock Museum, Northern Neck Farm Museum, Historic Christ Church, Colonial Beach Historical Society & Museum, Deltaville Maritime Museum, George Washington Birthplace National Monument, and Reedville Fishermen's Museum.
The Tidewater Virginia region is also home to historic lighthouses, several of which allow public access.
Day Trips
The Hampton Roads region of Virginia includes Norfolk, Portsmouth, Newport News, Chesapeake, Hampton, Virginia Beach, and Suffolk.
Tidewater Virginia is also home to scores of small towns and communities that contain plenty of hidden treasures.
The Middle Peninsula includes the communities of Tappahannock, Urbanna, Deltaville, and Gloucester.
Several communities are located on the Peninsula, including Williamsburg, Jamestown, Yorktown, and Poquoson.
The Eastern Shore of Virginia is dotted with dozens of small towns and rural communities, including Chincoteague Island, Accomack, Onancock, Wachapreague, Nassawadox, Cape Charles, and Tangier Island.
Shopping
The winter season can be a good time for shopping as many stores hold after-Christmas clearances, January white sales, and other special events.
For some shoppers, urban malls and large shopping centers are preferred. Other choices include specialty shops, thrift stores, antique dealers, bookstores, and other one-of-a-kind businesses.
Food and Drink
Winter can be a good time to enjoy food and drink. Despite shorter, cooler days, local sellers offer a variety of seasonal foods including apples, greens, turnips, sweet potatoes, oysters, fish, cheeses, wines, and much more.
Conventions, Expos, and Shows
A number of conventions, expos, shows, and other events are held each winter in Tidewater Virginia. Many of the area's largest shows are held in Hampton Roads, where large venues are available. Popular events include boat shows, sports and outdoor shows, home expos, business conventions, indoor swap meets, and others.
Outdoor Recreation
Parks and Refuges
Nature and outdoor enthusiasts will find things to do at Back Bay National Wildlife Refuge, Great Dismal Swamp National Wildlife Refuge, Rappahannock River Valley Wildlife Refuge, Chincoteague Island National Wildlife Refuge, Assateague National Seashore, Eastern Shore of Virginia National Wildlife Refuge, and other sites.
State parks also offer a variety of nature-related activities and other forms of outdoor recreation. Belle Island State Park, Westmoreland State Park, Dameron Marsh Natural Area Preserve, Hughlett Point Natural Area Preserve, and Vorhees Nature Preserve.
Winter Wildlife Special Events
Sponsored by the National Audubon Society, Christmas Bird Counts are held in several locations throughout Tidewater Virginia. Christmas Bird Count participants take part in counting the number of birds observed on a set route.
Headquartered in Virginia beach, the Winter Wildlife Festival draws bird enthusiasts from all over the East Coast. The event includes outings to several locations in Tidewater Virginia.
Beaches
Tidewater Virginia beaches range from large oceanfront tracts along the Atlantic Coast to sheltered beaches of the Chesapeake Bay and its lower tributaries.
In winter, beaches are popular for hiking, collecting sea shells, fishing, birdwatching, photography, and other recreation.
At several beaches, polar plunges, hikes, or other activities are held in celebration of New Year's Day.
Fishing
Anglers can enjoy freshwater fishing on a local lake or take a deep sea fishing trip along the Atlantic Coast.
Hunting and Trapping
Tidewater Virginia is known for its outstanding hunting opportunities. During winter seasons, hunters harvest waterfowl, deer, and small game. In salt marshes, wetlands, and swamps, trappers harvest muskrat, beaver, nutria, and other fur-bearers.
Whale Watching
Winter is the best time to see whales and other marine mammals off the coast of Virginia. When favorable conditions exists, whale watching boats search the ocean waters in hopes of encountering right whales, fin whales, porpoises, seals, sea birds, and other marine life.
Walking – Running – Biking
Walking, running, hiking, and biking can be enjoyed in the winter. On the Eastern Shore, Chincoteague National Wildlife Refuge and Assateague Island National Seashore offer trails for hiking, biking, walking, running, and wildlife watching.
The Hampton Roads region contains some of the state's most iconic recreation trails. Newport News Park, one of the largest natural areas in Hampton Roads, contains approximately 30 miles of trails.
In Hampton, the pathways of Fort Monroe National Monument lead to historical sites, beaches, and other attractions. For nature lovers, trails at Sandy Bottom Nature Park surround a scenic lake.
In Norfolk, the Elizabeth River Trail is a popular urban pathway. Trails can also be found in public parks at Oceanview.
Near Chesapeake Virginia, access for recreation is available along the Dismal Swamp Canal Trail and trails within Northwest River Park.
The historic Virginia Beach boardwalk is popular with walkers, runners, and bikers. Nearby, First Landing State Park and Back Bay National Wildlife Refuge have several miles of trails.
On the Virginia Peninsula, York River State Park contains 16 trails for recreation. Riverwalk Landing in Yorktown is popular for walking, biking, and other activities. The pedestrian riverwalk leads to one of the area's most beautiful beaches.
Watersports
Despite cool temperatures, some adventurers enjoy kayaking, stand up paddleboarding (SUP), surfing, windsurfing, and other watersports.
Related Information
Things To Do (all)