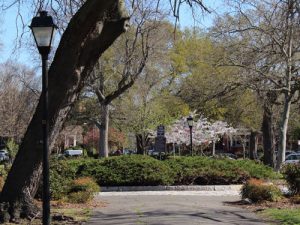 Tidewater Virginia contains dozens of interesting destinations that are suitable for day trips, weekend getaways, and other excursions.
The Northern Neck is one of Tidewater Virginia's quietest areas. Home to more 1100 miles of shoreline, the Northern Neck is a popular destination for travels that enjoy nature, watersports, and other outdoor recreation.
The Northern Neck is home to a wide range of public access areas including Rappahannock River Valley Wildlife Refuge, Belle Island State Park, Westmoreland State Park, Dameron Marsh Natural Area Preserve, Hughlett Point Natural Area Preserve, and Vorhees Nature Preserve.
The area is also known for its historical sites, wineries, and small farms. Local wine tours include stops along the Chesapeake Bay Wine Trail.
The Middle Peninsula includes the communities of Gloucester, Tappahannock, Deltaville, and Urbanna. The area hosts a number of annual festivals that attract visitors. Like other areas, the Middle Peninsula is known for its water-based activities.
The Lower Peninsula is known for its historical sites, buildings, and other resources, many of which can be found at Williamsburg, Jamestown, and Yorktown.
The Hampton Roads area is one of the most popular destinations. Home to numerous museums, theaters, restaurants, amusements, sports arenas, and other attractions, the seven cities of Hampton Roads offers travelers with endless options.
Located on the oceanfront, Virginia Beach is known for its sandy beaches, boardwalk, amusements, food, shopping, and other recreation.
Hampton Roads is home to several of the nation's most important military assets and maritime facilities. In addition to views of naval ships, visitors will find a wide range of military-related museums and events.
In Hampton, Fort Monroe, Langley Air Force Base, NASA Langley Research Center, and the Virginia Air and Space Center are popular destinations for military history enthusiasts.
Hampton Roads is known for its mosiac of architectural styles. In Norfolk, five locally designated Historic Districts (Ghent, Downtown, West Freemason, East Freemason, and Hodges House) attract visitors of all ages. Several Norfolk historic districts and individual sites are recognized on the National Register of Historic Places.
Norfolk is also known for its art culture. The NEON District includes the Chrysler Museum of Art, Harrison Opera House, The Plot, public murals, small galleries, and other resources for visitors.
Across the Elizabeth River from Norfolk, Portsmouth is famous for its museums, festivals, small shops, historic buildings, and other attractions. Water taxis provide visitors with spectacular views and relaxing transportation between the two cities.
To the south, the City of Chesapeake is located near the Great Dismal Swamp. The city's Chesapeake Wine Festival attracts visitors from Chesapeake and beyond.
Travelers exploring the Eastern Shore of Virginia will find a series of small towns and communities. Popular destinations include Chincoteague Island, Onancock, Wachapreague, Nassawadox, Cape Charles, and others.
The Eastern Shore is home to some of Tidewater Virginia's most popular beaches. The area is also known for its saltwater fishing, hunting, and other outdoor sports.
Related Information